Russia Gosloto 6/45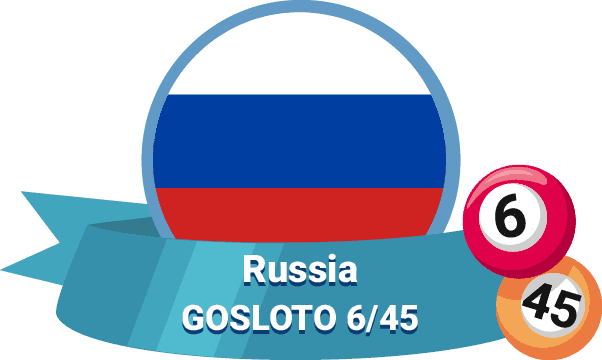 Play Russia AM Gosloto 6/45 online with HomePlay to start the day on the winning note!
Start your day right – bet on the outcome of the incredibly fun and profitable AM Gosloto 6/45 with HomePlay and win an impressive prize payout even before you leave the house for work in the morning! Gosloto 6/45 is a popular and well-reputed lottery from Russia, with draws taking place twice a day at 10:00 am and 10:00 pm SAST. Many lotto fans in Russia and worldwide know and love this game for its straightforward rules that are easy to learn even for a beginner, favorable winning odds, and, of course, the handsome cash rewards payable to the lucky champions.
The format of the Russia Gosloto 6/45 lottery should be familiar to all lotto players in South Africa as it is very similar to RSA Daily Lotto 5/36: there is only one pool of 45 balls used in the Russian lottery with six numbers drawn randomly during the morning and the evening session. The player to correctly predict all of the winning numbers drawn in a particular 6/45 Gosloto session takes home the top cash prize.
If you want to try your luck at Russia AM Gosloto 6/45 draw, you need to know how this game plays in South Africa since it is different from the traditional lotto-playing experience. SA lotto fans cannot participate in foreign lotteries directly and have to place their bets via trusted and dependable online betting platforms like HomePlay. When playing Gosloto 6/45 AM with HomePlay, South Africans bet on the outcomes associated with a specific draw rather than buy an actual ticket. In other words, they seek to predict the winning numbers drawn in the game.
The main advantage of such a betting method, also known as the Lucky Numbers betting system, is that Gosloto AM 6/45 bettors get to decide how many numbers they want to predict and how much money they wish to wager. Since platforms like HomePlay utilize a fixed-odds betting format, the player will always know in advance what prize payout they will receive if they get all of their Russia Gosloto 6/45 hot balls right. Thus, they can adjust their wager amount according to their individual needs and wants.